Locate the ScreenSaverIsSecure value. Resolution Important This section, method, or task contains steps that tell you how to modify the registry. Now type the following commands in command prompt cmd. Ability to use BIOS if needed. After 5 min, It will ask you to "restore defaults", select "Cancel" option.
In this case, you may use the iSeePassword Windows password recovery tool. Click on Proceed to continue. Enter the current password and click on Remove Password button.
Bypass Remove Windows 7, vista and xp password If lost windows 7 password or other version windows password of your computer, removing the lost password is a quick and easy way to regain access to your windows and go on with your work.
If you're not going to provide constructive help, don't trouble yourself by trying to scare me into submission. I know that many of you may know this vulnerability in Windows 7, I just wanted that a tutorial like this should be in Null Byte.
Select the windows you want to create account for. However, windows won't let me On the following dialog, leave the New password and Confirm password text box empty, and click on OK. After rebooting, you can login with new account.
We have one person on site that handles the easy day to day issues that come up as necessary who is also the controler for the company.
Start Registry Editor Regedt Boot computer from password bypass disk. Eventually you can kiss your azz go0odbye! Need I say this is for Educational Purposes! After that, you rename the Command shell from cmd. To run the exploit, you will need to boot from a Windows Vista install DVD; if you don't have one, you can download a copy here legitimate.
Then install something else you can't live without on your work computer. The desire to modify user account s on said Windows boxen.
To the point type: Select an account from list. Select the one you want to remove ,click Reset password. Turn on your Windows Vista machine and tap F8 on the keyboard repeatedly; eventually you will see a black and white boot menu screen.
Bypass Windows 7, vista and xp password by creating a new account. Remote Desktop Users Group: On the Edit menu, click String, type 0, and then click OK. Physical access to said Windows box.
If don't want the unauthorized people to enter your PC device, it is a good idea to set a password on your user account. You have to keep in mind the letters and retype again. Don't enter a password leave it blank and then click on the arrow button on the screen to login. Select the account you want to delete.
When the shutdown timer expires, the Welcome to Windows dialog box is displayed. Dennis Faas is the owner and operator of Infopackets. If not can you tell me how to reset a user account password for Windows Vista?
Start this application after installation.So if you forgot an admin account password, just sign in with the other admin account and reset the account password via Control Panel-> User accounts. Method 2: Break or crack the admin password.
This is the best option in nowadays because there are so many options out there. This how-to on hacking Windows 7/8/10 etc. admin account passwords using Windows Magnifier is focused on adding, changing, or deleting an admin level account on a Windows 7/8/10 etc.
Maybe you forgot or lost the password to your Windows Admin account, this guide will help with that. Step 5: Override(remove) Windows 7/vista/xp password with Spower Windows password reset Special program. When the Spower Windows password reset program is ready, follow the steps shown as red number to Override the windows administrator password.
Mar 28,  · The only way to reset your windows password % safe is to use a software called Reset Password Pro. The software allows you to create a boot-disk, that can be made on a CD/DVD or USB stick.
The boot-disk can then be inserted into any locked machine, and Status: Resolved.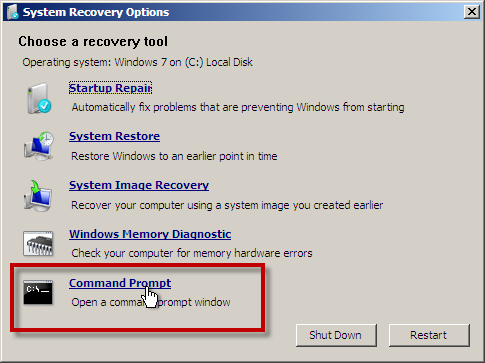 To add to hkkhkhhk's comment: If you are a local admin and you do not like to be trumped by the domain admin you have the power to leave the domain. However, you do not have the power to override the rules of the domain set forth by the group policy.
So if you boot the system using a Linux live cdrom or windows rescue disk and you copy "c:\windows\system32\agronumericus.com" over "c:\windows\system32\agronumericus.com" then when you hit shift 5 times you then launch a command line with administrative privileges.
Download
Overwrite administrator password windows 7
Rated
3
/5 based on
37
review